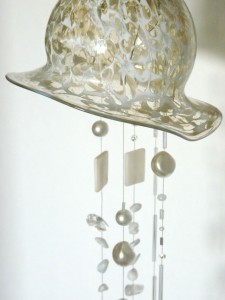 This year has been full of changes, career wise… taking the glass route down to part time and seeking outside employment.  I must admit, before all of this was happening I was feeling very negative.  But as the art shows started to happen and sitting under a tent selling my wares was turning successful… and finding a retail job… life hasn't been all bad.  I guess I have some things to be thankful for right! I am a little sad that my plans didn't work out exactly how I had hoped, but I am making due.  Soon I'll have my furnace warmed up again, I visualize that daily, and when I do… well you won't be seeing any of me only pictures of the new glass!
I feel so thankful to have found the Salish Sea Market down in Bowser to represent me and display my art work… the setting is perfect for my pieces.  I have had a few emails seeking the Jelly Fish out, I have one up for auction ending on the 18th of this month, one on Etsy, and a few down in Bowser!  As well as some bowls, sand castings, and I think maybe even a tidal ball or two.
The FaceBook auction has been doing really great, and keeps me pretty busy! That and felting! Stay tuned!  With that being said, I will not be attending any shows this Christmas shopping season.  I don't mind though advertising any shows on the island that might interest my following! So send me links and Ill do my best for you! As always, thank you for your never ending support and encouraging words!