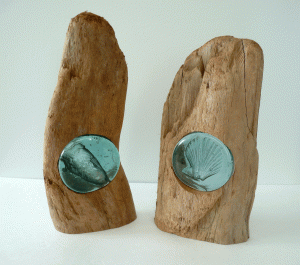 I would like to start this post with a great big THANK YOU to Bryan out at the Kitty Coleman Woodland Gardens for hosting the Artisan Festival… it was a success.  An honor to be a part of, and an all around awesome experience in a peaceful soothing environment, with talented artists, and friendly faces all around.
The show was a great season finale for me but now am left with a feeling of loss… I lack a plan.  Stay tuned!
I took some more Beach Memory pieces down to the Salish Sea Market in Bowser, BC. (my favorite gallery), they also have some of my bowls, platters, and jelly fish on display as well!
I listed some Jelly Fish on my etsy store site too, we will see how that goes!
Just so you know, just because I will not be set up with all of my wares for a while doesn't mean you can't enjoy them! I am represented at the West Coast Community Craft Shop (Port Hardy, BC), Salish Sea Market (Bowser, BC), Salish Sea Gallery (Cowichan Bay, BC), and online at my Esty Shop: byTLG
Like always, thank you thank you thank you for your never ending support and encouragement!