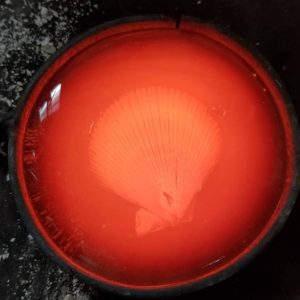 I was thinking about my life in general – I seem to be going through a transition, a cross roads if you will with my personal life, career, and school and was looking forward to this vacation time to clear my head.  Sweat it out was my attitude.  Answers come to me when I am in the hotshop, the heat, the music, the noise of the tools and the fan – some people jog – I blow.  I felt I needed this time and was looking forward to it.
Sunday I found the glass difficult to work with only because I have been charging the furnace with recycled glass making it blue and chordy which is not easy to work with.  I solved the issue by just shutting the glory hole off and casting for the afternoon – and what a nice time that was.  I cannot wait to complete the beach memory pieces – I actually planned another day to cast later on this week.  Emmma had other plans.
Yesterday I had a wonderful time in the hotshop, I had charged the furnace and blowing was a breeze.  I broke out some new color and did my thing.  Tried a few new ideas, sang to my latest playlist and turned my mind off to everything I couldn't control.  And then – my hair caught fire when a "chunk" of glass hit the side of my head, exploded and stuck to my hair.  Thank God for safety glasses.  The smell reminded me of my science class with Mr. Check… but I still don't know what the experiment was for! Regardless – it's just hair and it was time for a change anyway and the burns down my shirt will heal with a little lavender oil.  I still classified my blow slot as a productive and therapeutic session!
Today I turned on everything and had a cup of coffee with my mom while I waited for things to heat up, we were talking about life and I think at that moment the universe must have finally been listening to me because with attitude I said "I don't care, I don't even like glass"… I lied universe! I lied!  Of course I like glass – hell I love glass.  It's just funny how lately my words are taken so literal and leaves me disappointed, hurt and let down.  When I went out to the hotshop, I turned on the tunes to my latest anthem Committed by Ivory Layne, put on my ratty gross kevlar sleeve I've had since college, prepped my new blue lagoon color (my fav) and pulled out my favorite hot pipe from the pipe warmer.  I was ready to kick ass, art it up, and feel normal for a few hours.  When I tried the furnace door, it wouldn't budge – my heart sank and I knew instantly, the tears welled, and suddenly my sucky life just got worse – Emma's temp was down to 1730 degrees fahrenheit.  The glass was too cold.  I forced the door open to discover her bottom element broken.  There was nothing I could do but cry and well ignore the boot print on the front of Emma.
So now what? I can't jog I have asthma (I don't).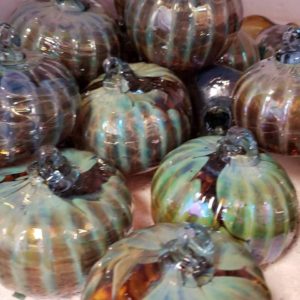 Is the universe out to get me? OR worse ignore me? Did the universe block me or ghost me? I am a logical and reasonable thinker, but one has to wonder after a while.
I'll just sit here with my chamomile tea and come up with another plan.  We will work through this and past this – as mad and heartbroken as I am at Emma I still love her.