Thank you to all of you that came out this weekend so far, especially yesterday in that stormy weather! TLG, Wildwood Creations and A Moment in Time Photography has had such a great weekend thus far – we are looking forward to what brings us today.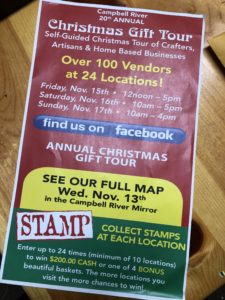 Today is the last day to enter the draw to win the Jelly Fish! So make sure you make your way out to #24 on the Campbell River Gift Tour and get your name in!
Popular items? Custom hot/cold drinking vessels, baby blankets and bibs, beautiful photo cards of our local scenery, my personal favourite the butterflies, spinner rings, and sea urchins!
We are set up at 2277 Upland Rd. 10 – 4pm today!