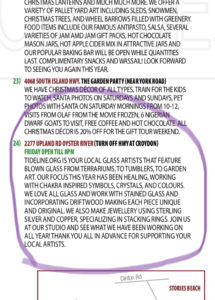 Did you see us in the local paper under the Campbell River Annual Gift Tour!? We are #24 – last but not forgotten.  This is our first year participating and we are excited to share with you and show you our work space.  We want to celebrate with you, this year has been incredible.  Vicki & I have so much gratitude in our hearts, we love making and sharing and you all have been so supportive.
It should be a fun weekend, we have some talented friends to join us with some handmade childrens' clothes, and a few more surprises! It will be worth the 15 min drive to Oyster River to visit, support, browse, and always a good laugh!
"2277 Upland Rd. Oyster River (Turn off HWY at Croydon)
Nov 15 Friday 12-8pm
Nov 16 Saturday 10-5pm
Nov 17 Sunday 10-4pm
TideLine.Org is your local glass artists that feature blown glass from terrariums, to tumblers, to garden art.  Our focus this year has been healing, working with chakra inspired symbols, crystals, and colours.  We love all glass and work with stained glass and incorporating driftwood making each piece unique and original.  We also make jewellery using sterling silver and copper, specializing in stacking rings.  Join us at our studio and see what we have been working on all year! Thank you all in advance for supporting your local artists."
For FIRST time, and only for the event we are offering a DIY class:
Make Your Own Jelly Fish.  The cost $75. includes everything you need to make your own glass beauty (please note the glass top has already been blown and ready for your own unique style).  You are welcome to bring items of meaning to hang on the tentacles like gem stone beads, charms, keys, buttons, use your imagination.  Please allow yourself a few hours to complete – this can be time consuming!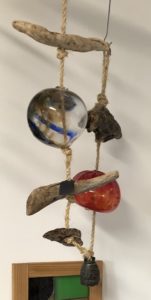 Make Your Own DriftWood Garden Bell.  The cost $50. includes everything you need to make this beauty.  If you want to bring but not required your own beach findings to include that is welcomed.  The blown part is already made and provided! Please allow yourself at least one hour to complete.