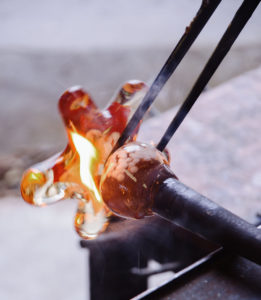 I dunno if you're aware out there but there is a bit of glass crisis… Spectrum 96 cullet is a thing of the past.  What is Spectrum 96 cullet you ask? Spectrum is a glass brand, 96 is the coefficient rate of expansion… its the science behind melting glass and cullet is the glass chunks you melt down in the furnace to blow with.  I have a full furnace of clear glass melting right now – like I said the last of the clear.
Friday, Saturday, & Sunday I will be using the rest of the precious clear glass and then charging the furnace with the recycled ugly glass until I can solve my glass dilemma.
If you have been in contact about memorial orbs this weekend is the weekend to make it happen – after I use the recycled glass, the glass will no longer be clear it will be a transparent steel blue in color and not idea for memorial pieces.
I plan on making urchins, sea stars and maybe a few other things… I am looking forward to the this weekend, the warmth, and just being home.  Stay tuned for pictures!