I use to love this time of year – and I still do to some degree.  Now there are no babies, my niece and nephew are overseas, and Dakota reminds me constantly that he is an adult now.  I find this time of year hard, a reminder of my Nanny – I still have all her wrapping paper she insisted on storing.  Kinda makes me laugh because I haven't had to buy any in years now so either I suck at gift giving, she gave a lot, or she was preparing never to run out of any wrapping paper for any occasion.  It's a reminder of what should have been, what was, and just a reminder to be honest – hug your loved ones and be grateful.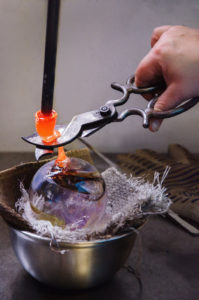 I truly believe glass is my therapy.  I don't know where I would have ended up if glass didn't find me – and right now I really wish Emma was hot.  I try not to focus on loss – I really do.  My gratitude journal is becoming less and less, all my urchins are completed, my Jelly fish are made up, my closet is organized, and I even tried dating… I might have to take up exercising?!
What am I grateful for? You.  Everyone who has played a part in my life, glass career or not.  This year – the glass was amazing.  Vicki and I had so much fun getting ready for the garden shows: Kitty Coleman x Two, Nanoose Bay as well as the Filberg one last month.  We have met so many awesome people who have supported us since the beginning and that is a pretty good feeling.  So thank you!
And I am grateful for my parents that always ensure my crazy glass obsession happens – housing the hotshop and putting up with the "ridiculous" heat, turning off any electronics while Emma is running so we don't lose power… finishing the pieces like gardens stakes, fixtures, and paying the gas bill.  I don't know why they do so much but I do feel pretty blessed.