It is Crystal you give for anyone celebrating their 15th Anniversary and guess what! TideLine.Org turned 15 today! What an adventure! What a learning curve! So much glass!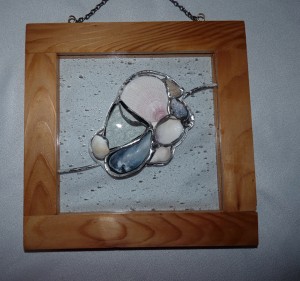 Did you know:
Vicki was working on a stained glass project back when she was making out of her home as a hobby when her and I went into the local glass store in town who at the time was getting out of the stained glass part of the business – she asked inquisitively "Well how much?" At that moment Vicki looked at me and said well do you want to do a stained glass business? I said sure.  Vicki produced her Visa and proceeded to buy the stained glass and supplies…
We had the supplies but no store – so we drove around Campbell River giddy with excitement when it hit us that we needed to tell our husbands what had just happened so we went to Save-On to buy steaks.
Glen said "Oh Vicki what have you done?"
I had no idea anything about glass, or the supplies for that matter and lets not get started on the business end of things… but how hard could it be?!??! Our first customer got her glass and supplies at Whole Sale price because well – how hard could it be?
TideLine wasn't our first choice – we had Seaview Gallery as top choice… Kiss My Glass (Vicki said no).  Final Destiny (Glens idea).  Above Tide – not the hotel.  
We didn't have a lot of luck with employees until we met our Frannie.  She didn't know how to do stained glass but for weeks would come in and buy sheets of class because they were so pretty.  Eventually she turned into one hell of a glass artist and dancer.
We moved four times with less and less volunteers to help us move.  We are finally where we dreamed of being – right outside Vicki's front door.
Dakota was 5.  He was our store mascot and every customer was his friend.
Vicki was only taken via Ambulance ONE time.  Tiny bit of blood… nothing Tonis dirty hoodie couldn't handle.
Vicki would do the ordering for the stained glass and would only buy blues and purples… She was replaced.
Toni faked her way by doing mosaics because none of her pieces ever fit together and was featured in the Nanaimo Art Gallery… 
Vicki won first prize in the Sooke Fine Arts show the same year Toni graduated from Glass school and didn't win.
We won New Business of the Year from the Campbell River Commerce – when Vicki Johnson was called to the stage Toni ran up and accepted as Vicki.  Vicki was very confused and offered to be Toni.  We were excited.
Vicki received the Aboriginal Woman in Business Grant that helped with our expansion and new learnings.
Did you know business is harder than we thought? It's time consuming, it's costly, and  frustrating to name a few, but it sure makes our gratitude list every day!