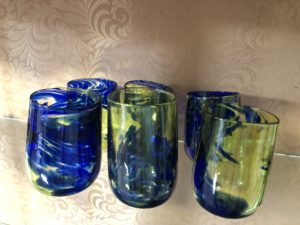 What a great time I have been having in the hot shop these past couple of months – with the upcoming garden shows I am doing I feel a little pressure now to complete some Tidal Balls and Sea Stars…. BUT! I made tumblers.

I love the thought of functional vs. things.  What is the purpose of a crystal glass that sits in the cabinet and collects dust? Please promise me, if you fall in love with one of my cups that you use it! Use it for your chocolate milk, juice, soda water… wine! Use it.  That is why I made it.  Maybe I'll interview potential buyers and ask "and what is your intention with this handmade cup?"
I attended a Rock & Gem Show in Port Alberni a while ago and purchased some beautiful crystals – I wish glass was compatible with natural stones but it isn't.  But I couldn't get it out of my head, glass and crystals – the healings, the raw beauty.  So I experimented – yes I did.  I took time to relearn, learn, and let go and try something new.  And as most experiments go the first few tries are ugly but you see the idea, the potential and you keep at it.  For the first time in a very long time I got out my sketch book and I started scribbling ideas. Functional/healing – crystals. Something was there.  I used clear glass to really feature the crystal, the crystal of choice of course is amethyst, one of my favourites.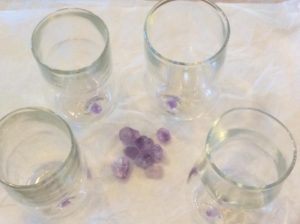 My thought is the person drawn to the cup is looking for the energy from the stone, whichever you're attracted to whether it be amethyst, clear quartz, rose quartz, etc. you would get what you needed when you drink from the glass, and when your thumb makes connection with the stone.  Perhaps thats function on a whole new level?
I didn't stop there – I have been playing with the chakra colours for a little over a year now and I thought how can I incorporate that into my functional tumblers – well.  I made murrini– its layers of colour pulled to create repeating patterns in glass.  Some glass blowers are pretty serious about their murrini and cane pulling but I am a little more laxadaisy (made up word?) and enough the organic look of glass vs. the perfect and disciplined.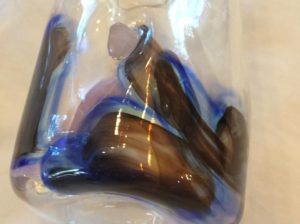 Regardless, I made Chakra coloured murrini and had been experimenting with that and decided to start there – chakra murrini tumblers.  And maybe a crystal, a rose quartz crystal.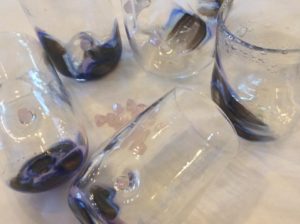 The color blew out and at first I was disappointed but now I love how the colors blend like they are painted with a brush.  They are soft and each are different.  These might be my favourites if I had to choose.
Continuing with the chakra colours I thought maybe the murrini isn't saying what I am trying to show – so I poured the frit (glass colour) on my table in a line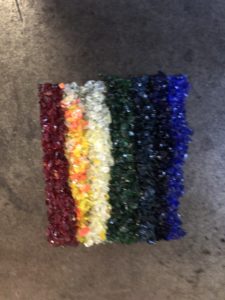 and rolled my pipe on top to pick up every colour of the chakra and continue that way.  Love.  Needless to say they turned out beautiful and am excited to make more.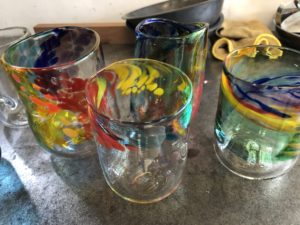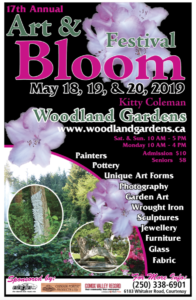 These guys will be on display among other new pieces yours truly and Vicki have come up with at our up coming show – where you ask? Why Kitty Coleman Woodland Gardens Art & Bloom Festival of course! May 18, 19, & 20.  Saturday & Sunday 10am – 5pm and Monday 10am – 4pm.